SPX Monitoring Purposes: Long SPX 6/21/23 at 4365.69.
Long SPX on 2/6/23 at 4110.98: Sold 6/16/23 at 4409.59 = gain of 7.26%.
Monitoring Purposes GOLD: Long GDX on 10/9/20 at 40.78.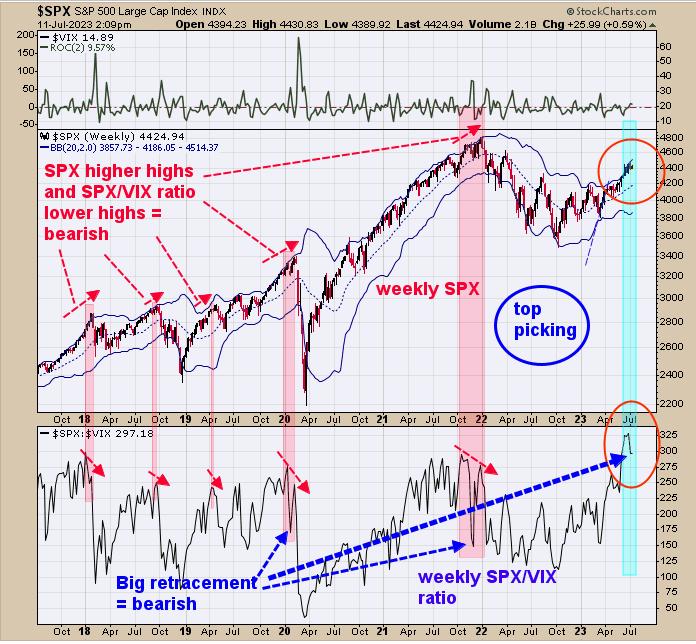 The bottom window is the weekly SPX/VIX ratio and the next higher window is the weekly SPX. We pointed out the times when the SPX weekly has a minor retracement and the SPX/VIX ratio has a large retracement. This doesn't happen all the time, but when it does, it is a good warning that market may be near a high. The SPY was up five days in a row going into Monday (July 3), which predicts the market will be higher within five days 85% of the time. If the market does make a higher high this week or next week and the SPX/VIX ratio makes a lower high, a divergence will show up. We noted the previous divergences in shaded light pink on the chart above, and all came near highs in the SPX. Evidence is growing that a high in the SPX may not be far off.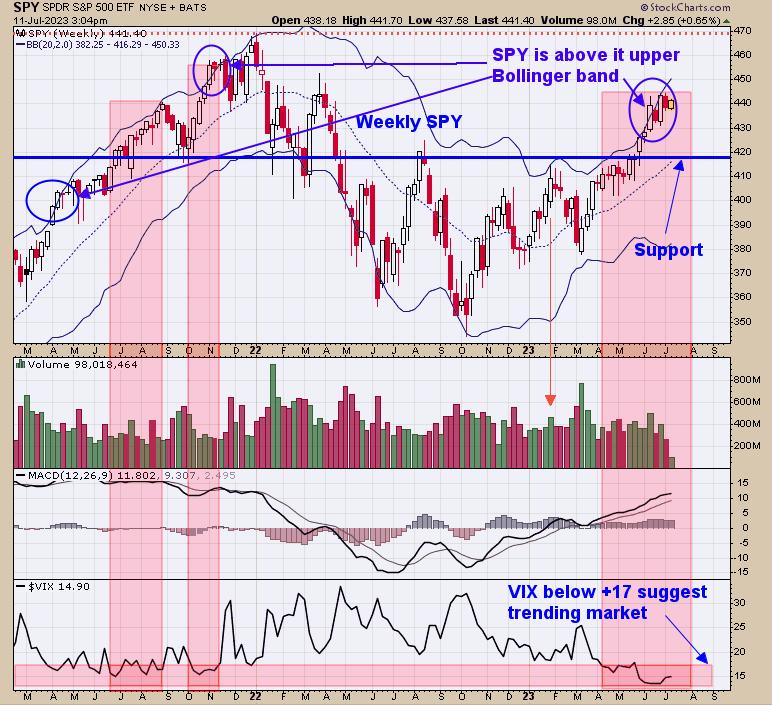 Above is the weekly SPY (top window) with its Bollinger Band. The SPY is usually near a stall area when half of the trading range closes above the weekly upper Bollinger band. We noted those times with a blue circle on the chart above. The bottom window is the weekly VIX; readings below 17 suggest a trending market is in force, and the current close is 14.90. A close above 17 on the VIX would suggest a pullback in the market is nearing. The SPY uptrend is intact, but signs are present that a pullback is not far off.
Tim Ord,
Editor
www.ord-oracle.com. Book release "The Secret Science of Price and Volume" by Timothy Ord, buy at www.Amazon.com.
---
Signals are provided as general information only and are not investment recommendations. You are responsible for your own investment decisions. Past performance does not guarantee future performance. Opinions are based on historical research and data believed reliable; there is no guarantee results will be profitable. Not responsible for errors or omissions. I may invest in the vehicles mentioned above.