Last week, the S&P 500 put in a bottom following Wednesday's rally of 1.4% on volume, which was greater than the prior day. Known by followers of William O'Neil's work as a "follow-through day", the price action occurred on the 12th day of a rally attempt and signals a new uptrend.
In addition to a new uptrend taking place, last week saw the equal-weighted S&P 500 sprint into an uptrend, following a period of dormancy due to the markets being led by a narrow group of Tech stocks. Increased breadth in the markets was also signaled by the number of stocks above their 50-day moving average, which increased by over 100% last week (using $SPXA50).
DAILY CHART OF S&P 500 INDEX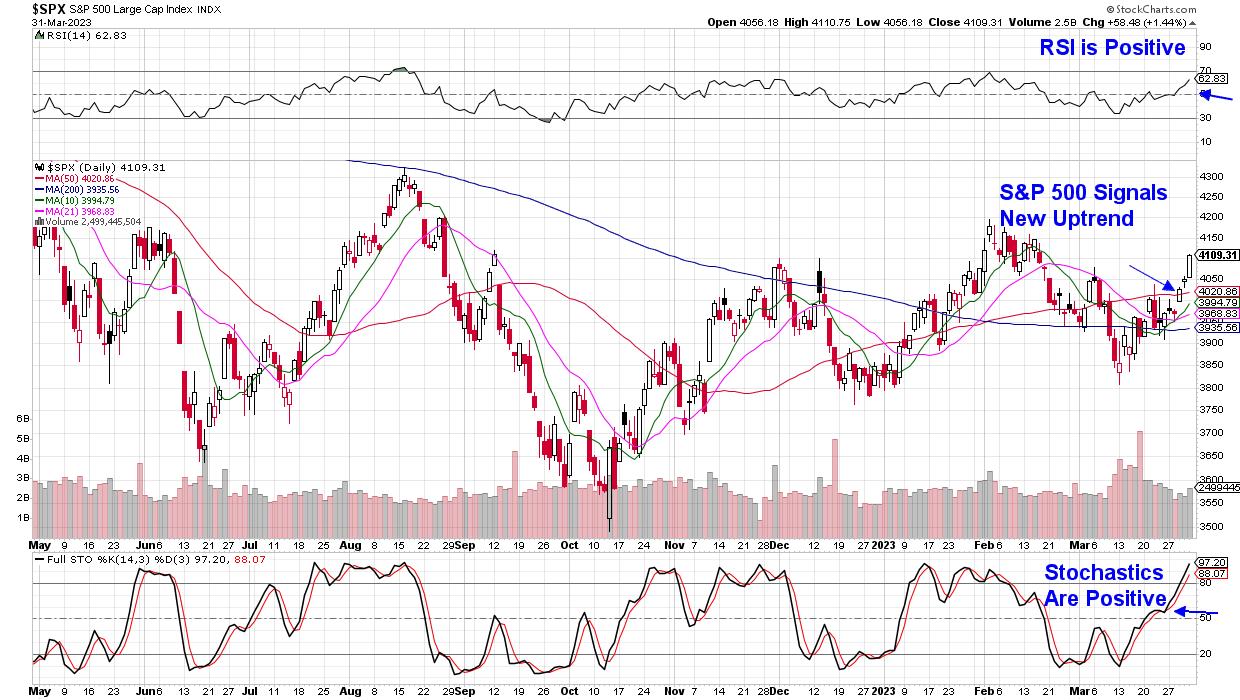 What Course Of Action Should Investors Take Now?
There are several ways to capitalize on the market's new uptrend. One way would be to take a position in leadership names that entered an uptrend prior to last week. This path will lead you toward Technology stocks that have been trending higher due to a positive growth outlook on the heels of reporting strong quarterly results. Most of these high-quality names remain in an uptrend and are poised to trade higher.
DAILY CHART OF TECHNOLOGY SECTOR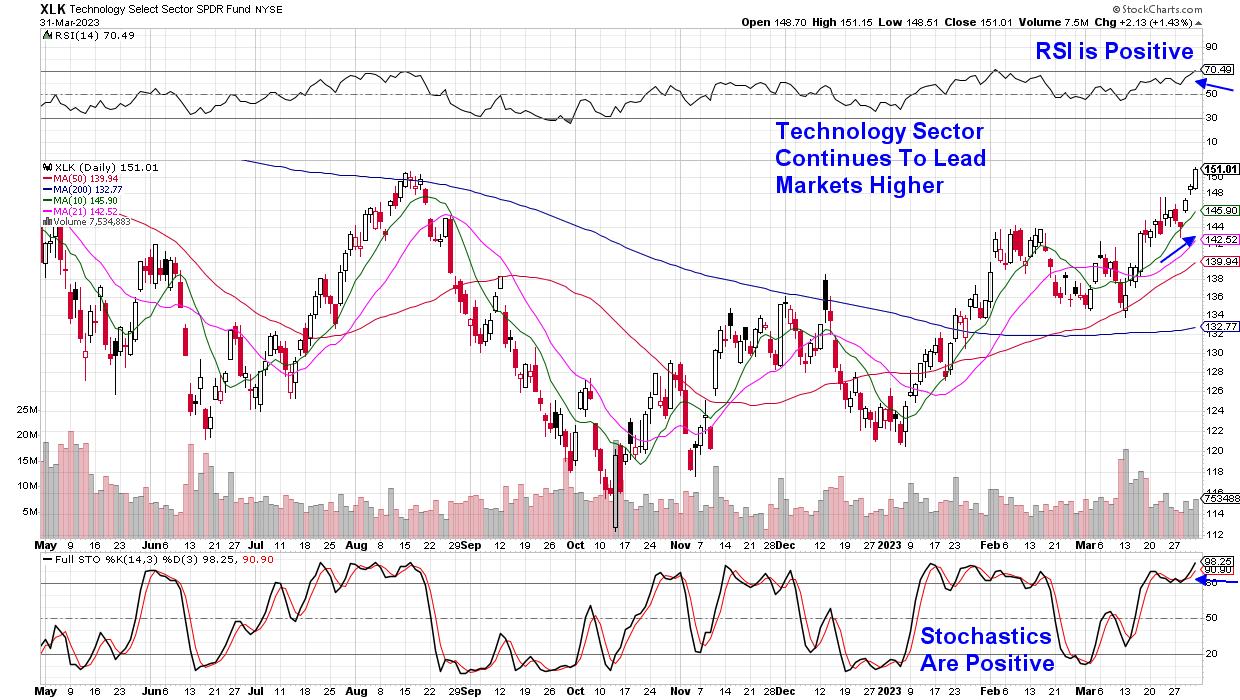 A second approach would be to buy fundamentally sound companies that pulled back sharply amid the recent bank crisis, but have recaptured their uptrends after last week's rally. This would put you in front of more economically sensitive areas, such as Industrials, that faltered amid bank related recession fears. Downtrend reversals are common among stocks once the markets enter a new uptrend, and scooping up falsely depressed names at a bargain can be a great way to boost your portfolio.
DAILY CHART OF INDUSTRIAL SECTOR (XLI)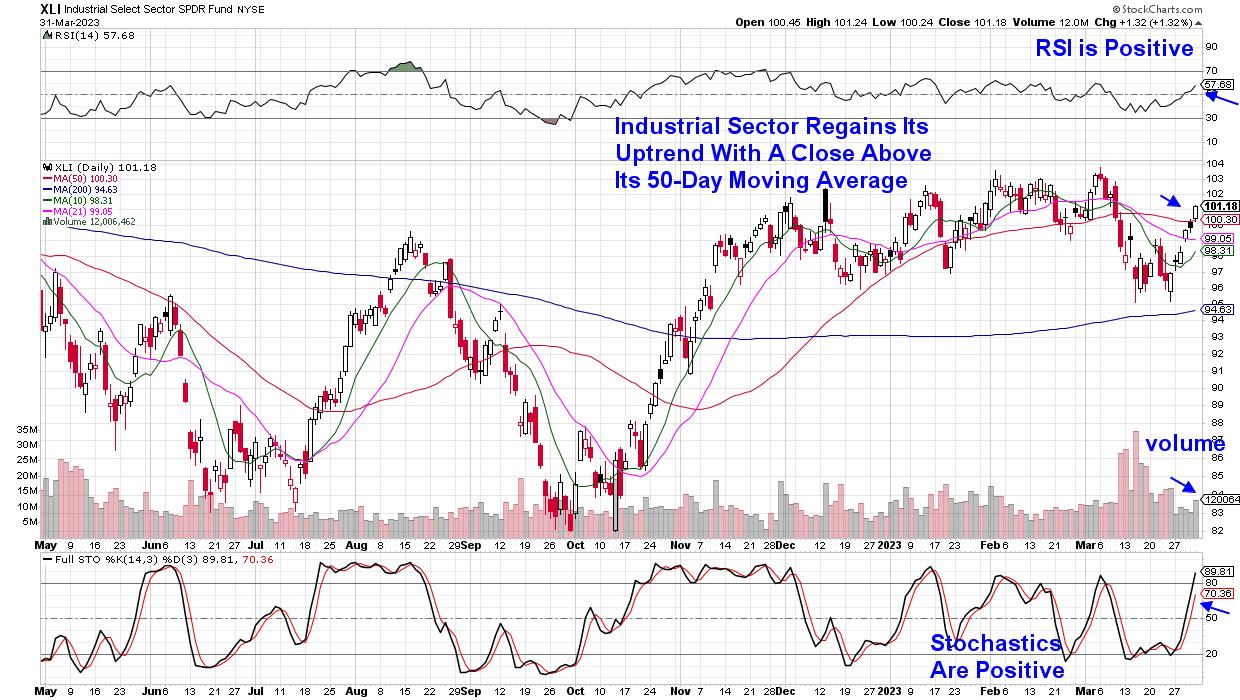 Along with subscribers to my MEM Edge Report, I've already taken up positions in several leadership Technology stocks — more specifically, select Semiconductor and Software names that have been in uptrends since as early as last January. This is in addition to 2 top FAANMG names that are poised to trade higher. You can access that list by using this link here to trial my twice weekly MEM Edge Report.
As for compiling candidates among Industrial or Discretionary stocks that have entered new uptrends, you'll want to narrow your list to include companies that have recently reported strong earnings and sales, while also posting a positive outlook regarding growth going forward. Studies have proven that strong earnings are the primary driver of stocks that go on to outpace the markets. In addition, you'll need the industry group of that stock to also be in an uptrend. Sector and industry group affiliation account for almost 50% of your stocks appreciation or deterioration, so getting this right is another critical component.
Below is a chart of Rockwell Automation (ROK), a manufacturer of motor and automation power systems that's in the Industrial sector (XLI). The company reported 4th quarter earnings that were 26% above estimates in late January, due to high demand for industrial automation amid a tight labor market. In addition, ROK raised its profit outlook for 2023 amid a slowdown in supply chain issues.
DAILY CHART OF ROCKWELL AUTOMATION (ROK)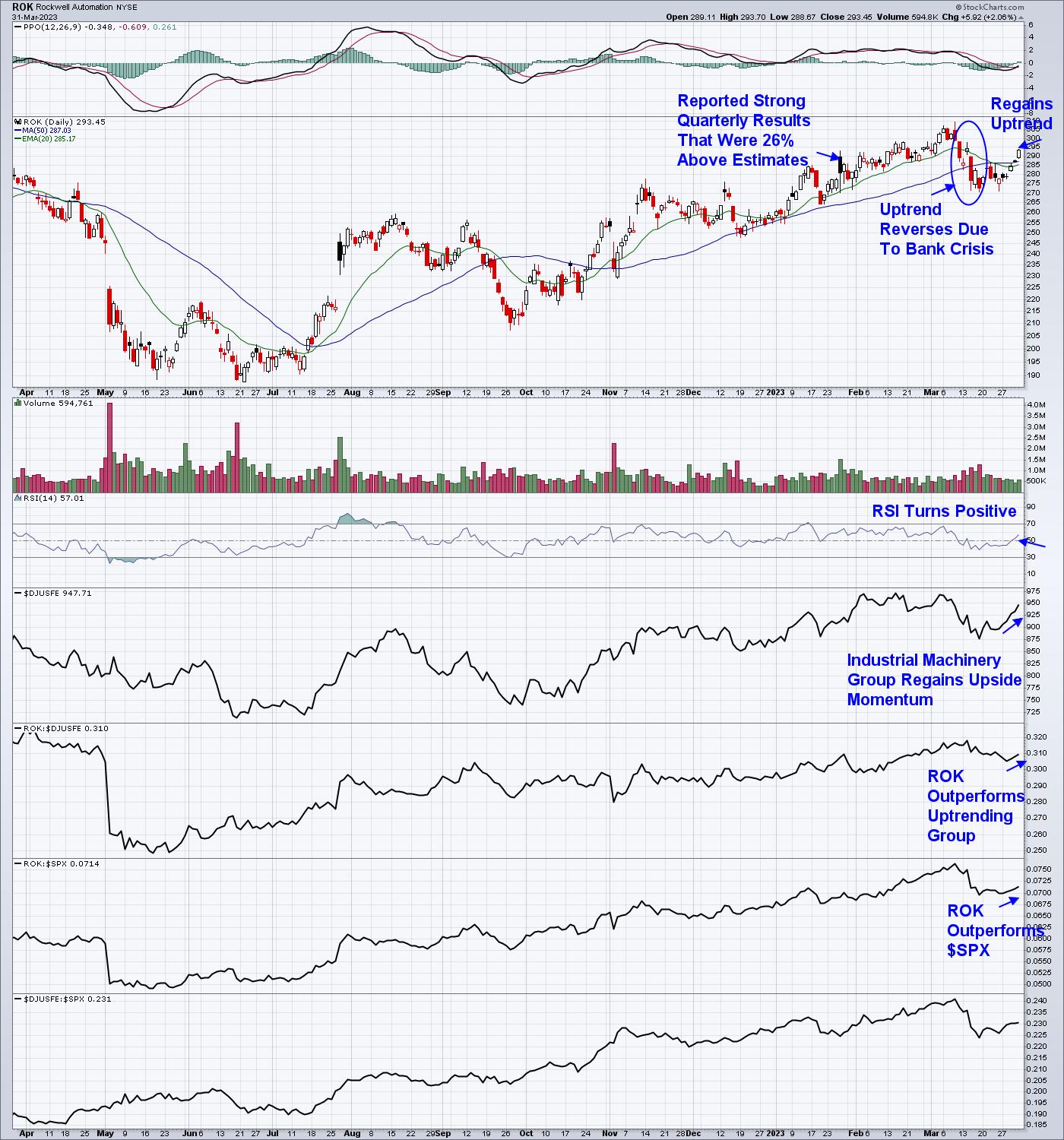 In this Sunday's MEM Edge Report, I anticipate adding select Consumer Discretionary stocks to the Suggested Holdings List after this sector turned positive. While the sector was given a boost by gains in heavyweight stocks Tesla (TSLA) and Amazon (AMZN), a 5% rally in Retail stocks (using XRT) put this group on a path to reversing its sharp 20% decline, which took place over the past 2 months.
While the markets have entered a new uptrend, roadblocks remain, as inflation levels remain elevated despite hints of a slowdown that were reported last week. In other words, continue to keep your stops tight until further evidence that the Federal Reserve has slowed their rate hike campaign. The next FOMC meeting will take place in early May.
Warmly,
Mary Ellen McGonagle, MEM Investment Research